WeedSniper® controls weeds with a simple click that delivers a micro-dose of herbicide. No mess, no fuss, just dead weeds!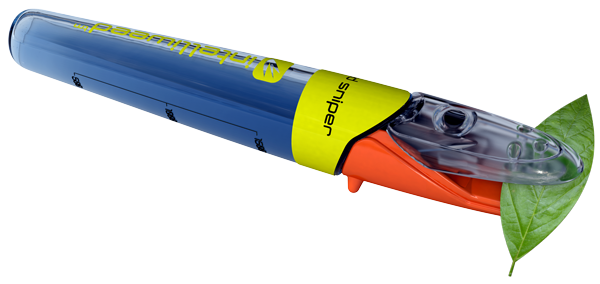 News Flash
Ever since our Shark Tank victory, WeedSniper® has received wide acclaim at a range of media and industry events. We have also received some great feedback from industry experts and potential customers alike.
This feedback is currently being incorporated into a new design for WeedSniper® and is nearing the final stages of development. We have received many offers from potential stockists and distributors from every Continent.
In the near future, WeedSniper® will be launching a crowdfunding campaign in order to finalise the design and tooling phase and to fund its first commercial run. to register your interest in participating in this endeavour, please go to our Crowdfunding Link.
Stay tuned for the launch of the new look WeedSniper® featuring some great improvements such as...
Replaceable herbicide cartridges
Improved child safety
Easy to handle with improved ergonomics
Greater separation between hand and herbicide
Improved efficiency (even less herbicide needed)
More flexibility (many different pesticides)

Key Features
100% ACCURATE
PATENTED MICRO-DOSE TECHNOLOGY
CHILD & PET SAFE
ECO FRIENDLY
NO DRIPS, NO MESS & NO FUSS
ALL WEATHER APPLICATOR
KILLS ALL COMMON GARDEN WEEDS
100% TARGET SPECIFIC
Why choose WeedSniper®?
WeedSniper® outperforms all other weed control methods:
Hand weeding is time consuming and unreliable. Many gardeners leave pieces of the roots behind allowing weeds to regrow. Hand weeding also disturbs the soil giving weed seeds the chance to germinate.
Weed sprays may be useful for paths and paved areas but can't be used in closely planted areas without affecting other plants. The chemicals used in weed sprays may harm the environment and be unsafe for children and pets. Weed spray packs are at times messy and can't be used in wet weather or windy conditions.
Gel applicators and weed wands are awkward to use (at the best of times) and like weed sprays may contain harmful chemicals such as surfactants that can't be used safely in wet weather.
WeedSniper® is accurate and easy to hold and use. It is safer for the environment, children and pets. Our micro-dose technology means no drips and no chemicals on your hands or clothing. Find out more about how WeedSniper® works in our technical section below.
WeedSniper® in action
click!
treated
sick
dying
dead
completely dead
Technical Details
With other weed killers a large amount of herbicide must be applied to cover the leaves but only a very small amount is absorbed into the weed.
In contrast, WeedSniper® uses special purpose-designed spikes to penetrate the leaf surface and deliver a lethal micro-dose of systemic herbicide directly into the circulatory system of the weed.
This patented method of delivery is super-efficient, highly effective and has been validated with independent scientific testing by Dr Peter Boutsalis of Plant Science Consulting. A world-renowned authority on weed control, Peter is a Postdoctoral Research Fellow within the University of Adelaide's Weed Science Research Group.

Precision
WeedSniper's ability to target individual leaves on a plant provides you with the ability to target weeds growing in tightly packed beds or near food crops without leaving a trace. In other words, WeedSniper® allows you to apply non-selective herbicides selectively in your garden.

Environment
WeedSniper's micro-dose technology means less exposure to chemicals for you, your children, your pets, and the environment itself. WeedSniper's design also incorporates physical measures to ensure child safety.

Convenience
WeedSniper's handy size means you can keep it in your gardening kit or even your pocket or on your belt ready to use whenever you see a weed. Our no mess, no fuss design means no more battling with leaky spray packs and misbehaving nozzles. It means you will never again be subject to herbicide sprayed on your face in a sudden change of wind direction.

Safety
WeedSniper's micro-dose technology dramatically reduces the amount of herbicide that enters your garden and eliminates the potential for contamination of other plants or waterways due to overspray, drift or runoff in wet weather.

All-weather
WeedSniper® is safe and effective in all weather conditions including rain, high wind and extremes of hot and cold. When you read the instruction manual for most herbicides, you will see that weed sprays should only be used in fine and calm conditions, at between 15°C and 30°C.
Evolution of WeedSniper®
WeedSniper® is the brainchild of Australian inventor Omid Rad and has undergone extensive development by a team of designers and engineers at Proen Design Australia.
The development team continues to work on expanding the product range and exploring alternative uses such as the application of organic herbicides, pest repellents, plant nutrients and tonics.
The following is a brief history of WeedSniper® written by Omid...

It all began in 2001. After working hard and long for many months on establishing a magnificent garden at our new home, overflowing with beautiful flowers and edible vegetables year-round, I found myself labouring over noxious weeds growing amongst flowers in our flower beds, as well as herbs and vegetables in our veggie patch for hours on end. Removing those weeds by hand was pointless; they would grow back just as fast as I was pulling them out. Spraying them was not possible either as it would kill my beautiful flowers and precious veggies. The only way I could tackle weeds in between desirable plants was to use an artist's brush and "paint poison" onto the leaves of the weeds which took many hours each week and appeared to be a losing battle. However, for a long time, that was my only manner in which to battle weeds with.
In 2003, barely two years old, my son Aria had boiling water pour onto most of his upper body, in a clinic of all places, causing third degree burns to most of his chest, neck, lips and chin. Following several months of treatment in and out of hospital, and several skin grafts later, we were told Aria would not be able to swim in the sea, come into contact with salts or any form of harmful chemicals including herbicides and insecticides. Until his accident, Aria had been a vibrant young boy who enjoyed all activities outdoors in the garden of our new home, as well as parks and creeks all the like. After his discharge from hospital, we were acutely aware of all the things he should not come into contact with, especially toxic chemicals, which until then, I had used extensively in and around the garden for weed and insect control.
The despair we felt for having to keep Aria out of the garden (just because I used chemicals to kill weeds) was simply unbearable. I looked everywhere to find a device that could be used to destroy weeds without leaving a trace or damaging plants I didn't wish to kill. Weeds between flowers and vegetables, weeds in the veggie patch, or weeds in the flower beds. Having searched high and low for a long time, I could not find a device anywhere in the world that was both target-specific, and could deliver chemicals to plants without leaving a trace behind. I decided that it was up to me to invent just such a device. We began looking for ways to kill weeds without using large amounts of herbicide. Our desire to create a device delivering lethal micro-doses of herbicide leaving little or no residue on the plant to rub off onto Aria or our pets. We experimented with a wide range of ideas and prototypes - the first of which was this huge monstrosity. However impractical it was, when it came to killing weeds, it was ace!
Many ideas were explored over the years; many prototypes built, tested and refined. After all those years of experimentation, we concluded, weeds could be destroyed with systemic and targeted delivery of herbicide internally by the principle of "impregnation".​ To that end, a world leading scientist in the field of weed management, Dr Peter Boutsalis of 
Plant Science Consulting
, was commissioned to prove the theory's validity. Over the coming months, many trials were conducted for every foreseeable possibility and they were all a resounding success. Once we had independent proof of concept, we set out to design and manufacture a series of prototypes.
With the help of qualified designers and engineers from 
Proen Design Australia
, numerous design stages later, several prototypes were put to rigorous testing until we were finally confident that we had the winning solution. ​ Our first ever display in 2015, at an international hardware show in Las Vegas, USA was met with much excitement from various retail groups. This prompted us to enter the entrepreneurial show 
The Shark Tank
 in Australia which we came from victorious. ​ After all these years, it is with pride and passion that, my hero, Aria and I present to you, WeedSniper® by IntelliWeed®.
How to buy WeedSniper®
WeedSniper® is currently in the final stages of development and testing. We hope to see it on the shelves of stores across Australia and the world in the near future.​
If you would like to be notified as soon as WeedSniper® goes on sale please subscribe to our newsletter. Subscribers will receive an exclusive 'early supporter' reward when purchasing WeedSniper®. Contact us
WeedSniper® is owned and developed by IntelliWeed® Pty Ltd. Please feel free to contact us with any questions about WeedSniper®.
IntelliWeed® Pty Ltd
GPO Box 1880 Adelaide, SA, 5001 Australia
Australia 1300 88 00 44
International +61 401 339 407